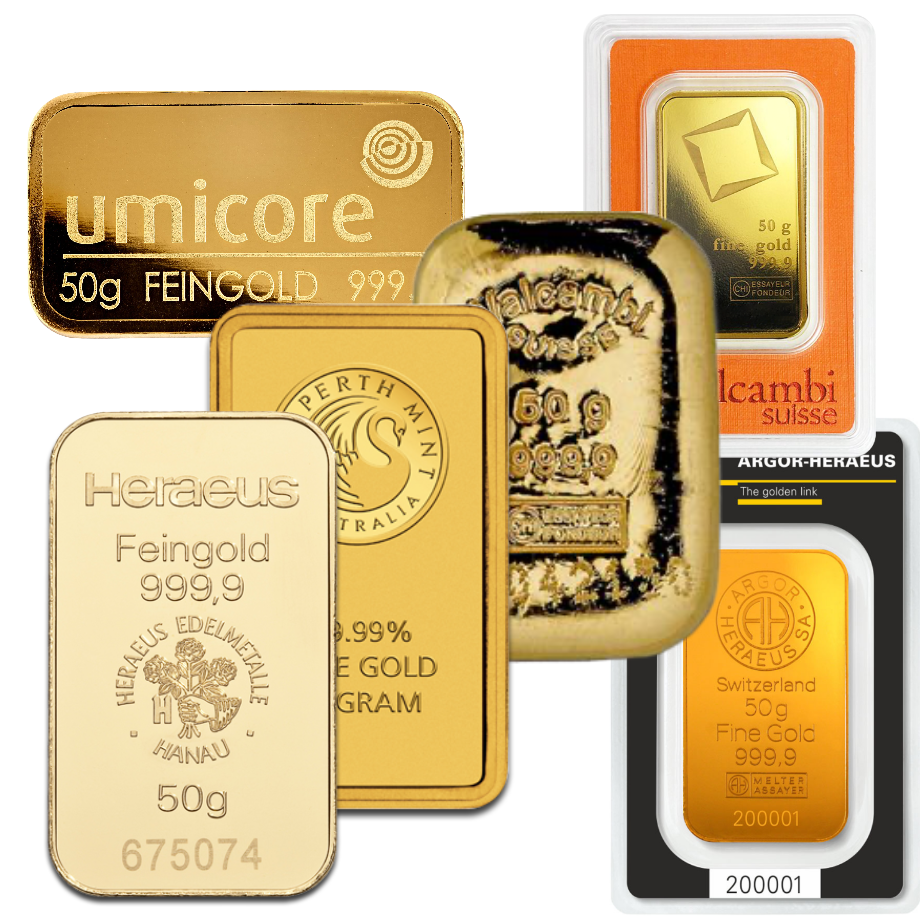 50 Grams Gold Bar | LBMA certified
---
Quantity
Price, incl. Taxes
0+

3,048.14

 €
---
---
Share this product:
50 gram gold bars from Umicore or Heraeus are typically a good introduction to gold bars for investors. A 50 gram gold bar is equivalent to 1.7637 ounces. Investors who are interested in gold bars can start with the 50 gram bar and accumulate more gold per bar compared to 1 ounce coins.  
Both Heraeus and Umicore gold bars are approved by the London Bullion Market Association (LBMA). These bars are highly liquid and are easily bought and sold at most precious metals dealers around the world. 
Both companies have a good reputation for producing high quality gold bullion products. All of the different gold bar sizes have a purity level of 999.9/1000.
Key Specifications
Weight: 50 Gram
Purity: 999.9/1000
Country of Origin Heraeus: Germany
Country of Origin Umicore: Germany
Gold Bar Production 
The process of minting gold bars is a bit different than minting coins. For larger bars the molten is poured into molds that are referred to as ingots. Whereas smaller gold bars can sometimes be minted or stamped from rolled gold sheets. 
Depending on the needs and the investment portfolio of the individual, both large and small gold bars are good options to consider.
History of Gold Bars 
Gold bars have a long and ancient history. The earliest type of gold bars were ingots made by pouring molten gold into molds. Interestingly, the process is not to different from how gold bars are still made today. Bullion refers to gold, silver and precious metals bars. The word bullion comes from the French Minister of Finance under Louis XIII, Claude de Bullion. 
London Bullion Market 
The London Bullion Market is an over the counter market for wholesale trading of gold and silver. The London Bullion Market Association (LBMA) coordinates activities of its members and other participants in the London Bullion Market. 
The LBMA sets and promotes quality standards for gold and silver bars. The minimum acceptable fineness of the "good delivery" bars is 99.5% for gold bars and 99.9% for silver bars. 
Gold bars from Heraeus and Umicore comply with the high standards of the LBMA. These investment bars are an excellent choice for any gold investors who is interested in owning gold bars. 
Investors who buy gold bars will typically store the bars in a secure third party fully insured storage facility. CelticGold offers storage solutions for customs who want to protect their investment through third party secure storage.
Gold Bar Tax 
Official gold bullion coins and bars are exempt from VAT in Europe. However, investors may have to pay a capital gain tax when selling gold depending on the country where the person resides.
Gold Bar Pricing 
The price of gold is made up of the current price of gold, which is also referred to as the "spot price", plus the premium. The premium includes all the costs that are incurred to mint the gold bar. The premium will also include the margin and costs of the precious metals dealer. 
It is always a good idea to compare prices before buying, but choosing a reputable dealer should be the number 1 criteria.
| | |
| --- | --- |
| Metal | Gold |
| Form | Gold Bar |
| Country of Origin | diverse |
| Manufacturer | Different LBMA Certified |
| Series | Gold Bars |
| Purity | 999.9/1000 |
| Fineweight | 50.00 gram |
| Gross Weight | 50.00 gram |
| Condition | Uncirculated |
| Packing | Blister with Certificate |
This is a preview of the recently viewed products by the user.
Once the user has seen at least one product this snippet will be visible.
Recently viewed Products