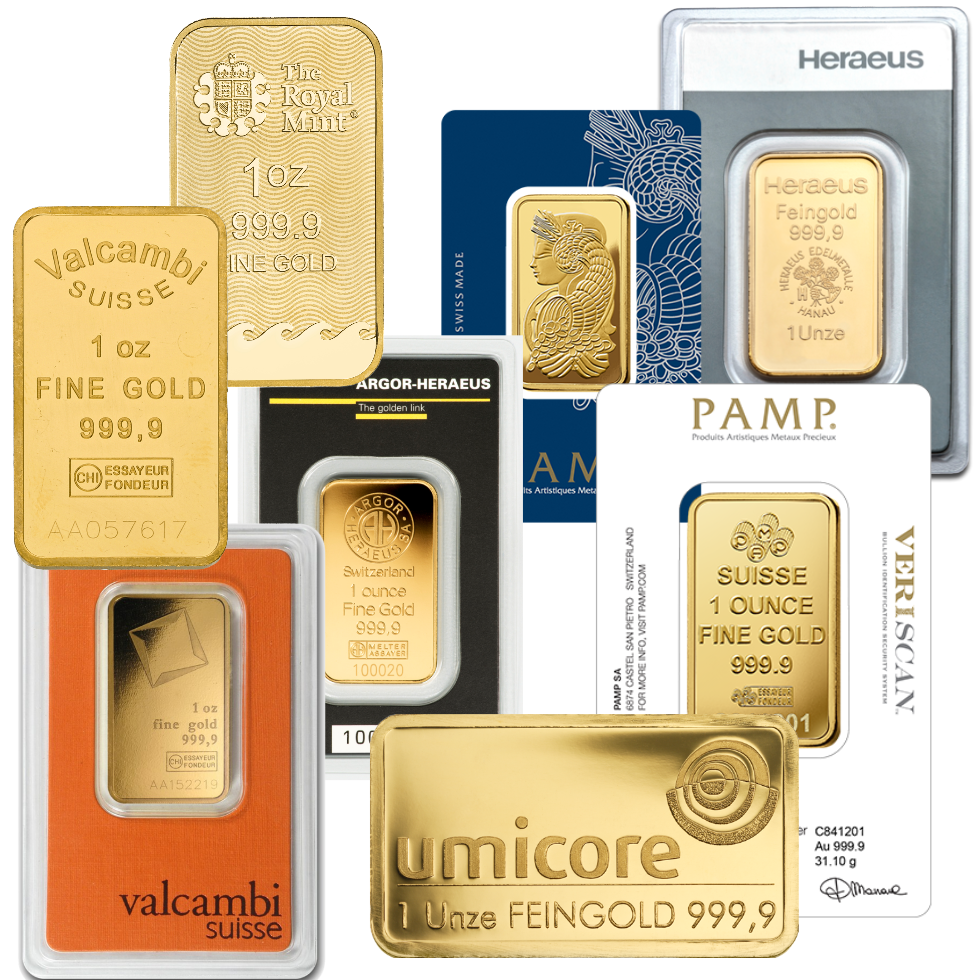 1oz Gold Bar | LBMA certified
---
Quantity
Price, incl. Taxes
0+

1,922.98

 €
---
---
Share this product:
The 1 ounce gold bar from Heraeus and Umicore are popular bullion products in Europe, but also well known brands around the world. Gold bars are an easy way for investors to buy and store gold. The here offered bars are pooled we do not have an influence on the manufacturer. 
Umicore is a Belgian based company that is a leader in recycling precious metals and refining the metals into bars. Heraeus is based in Germany and is one of the leading global suppliers of precious metals bullion products. 
Both companies are an accredited London Bullion Market Association (LBMA) refiner. Umicore and Heraeus gold bars are liquid and easy to buy and sell around the world. However, it is always recommended to work with a reputable precious metals dealer who has a comprehensive product offering.
Weight, Purity and Country of Origin
Each Heraeus and Umicore gold bar has a purity level of 999.9/1000. 
Weight: 1 ounce - 31.10 grams
Purity: 999.9
Country of Origin Umicore: Belgium
Country of Origin Heraeus: Germany
Producing Gold Bars 
Gold bars up to 100 grams usually get minted. Gold granules will be melted in and then rolled into plates of the correct thickness before punching the gold bar blanks. After the blank was punched out the gold bar gets finally "minted" in a hydraulic press to give it its shape and markings.
Benefits of Smaller Weight Bars 
Historically gold bars have been investments for large buyers of gold. This is because higher weight gold bars are often the most cost effective way to buy large amounts of gold bullion. 
Gold bullion in large weights can also be easily stored in a secure third party, fully insured vault. This makes gold bars ideal for large purchases. However, smaller weight gold bars are also an excellent way to buy and accumulate gold bullion. 
One of the key advantages to gold bars is the multiple sizes that are available to investors. Smaller weight gold bars come in 1 ounce, 20 g, 10 g, 5 g, 2 g and 1 g. The wide range of smaller weights give first time gold buyers many options to consider. 
The variety of weights also gives the gold investor a convenient way to accumulate gold on regular basis. This has made gold bars a popular way to invest in gold.   
Gold bars can sometimes carry a lower premium than fractional gold coins. It is always  a good idea to compare prices before buying. However, be sure to deal with a reputable precious metals dealer who has a comprehensive product line.
Gold Bar Tax
Gold bars are VAT exempt throughout Europe. Buying and selling 1oz gold bars does therefore not attract any taxes.
Gold Bar Price
The price of the 1oz Heraeus or Umicore gold bar derives from the current gold price and the premium. The gold price fluctuates according to supply and demand on the world exchanges and the premium describes the costs of producing, packing, distributing the product as well as the sellers margin.
| | |
| --- | --- |
| Metal | Gold |
| Form | Gold Bar |
| Country of Origin | Germany |
| Manufacturer | Different LBMA Certified |
| Series | LBMA Bars |
| Purity | 999.9/1000 |
| Fineweight | 31.10 gram |
| Gross Weight | 31.10 gram |
| Denomination (oz) | 1 oz |
| Condition | Circulated |
This is a preview of the recently viewed products by the user.
Once the user has seen at least one product this snippet will be visible.
Recently viewed Products