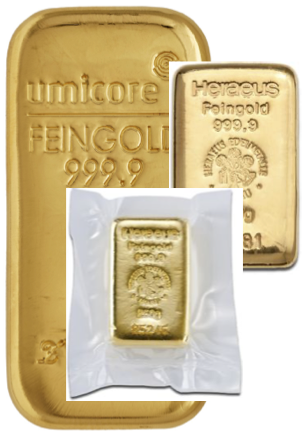 250 Grams Gold Bar | LBMA certified
---
Quantity
Price, incl. Taxes
0+

14,648.76

 €
---
---
Share this product:
250 gram Heraeus and Umicore gold bars are an excellent choice for those investors who are looking for larger weight gold bullion products. The bars have a purity level of 999.9 and are approved by the London Bullion Market Association as "Good Delivery Bars". 
Bars from Heraeus and Umicore are not only popular amongst European investors, but also have good global brand recognition. As a result these bars highly liquid and easy to buy and sell.  
However, it should be noted that not all precious metals dealers sell large gold bars like the 250 gram bar. As a result, it is always best to work with a reputable precious metals dealer that offers investors a comprehensive product line. 
Many investors who choose the 250 gram gold bar use a third party, secure and fully insured storage facility to safeguard their investment. CelticGold offers secure storage options for customers.
Key Dimensions 
Weight: 250 g
Purity: 999.9
Country of Origin Heraeus: Germany
Country of Origin Umicore: Belgium
Gold Bars vs. Gold Coins
250 gram gold bars generally are for serious investors who are looking to acquire gold at the lowest possible prices. Higher weight gold bullion products will typically have the advantage of lower premiums. 
One ounce gold coins often have more intricate and beautiful designs, which are popular with both investors and collectors. Coins can also be bought and sold in smaller denominations than higher weight gold bars. 
Some investors therefore choose a combination of both types of gold investments. Higher weight gold bullion products for major purchases that are typically stored a secure, fully insured third party vault; and coins that offer beautiful designs that can be bough and sold in smaller denominations.   
Manufacturer Quality
Heraeus and Umicore gold bullion products are very high quality and many of the bars come with a certificate of authenticity and a unique serial number that is stamped on the bar. Another important specification is that 250 gram bars from Heraeus and Umicore have a purity level of 999.9/1000.
Minting Gold Bars 
One of the reasons higher weight gold bars often carry a smaller premium is that they are easier to mint. Larger gold bars are typically produced by pouring the molten metal into forms that are called ingots.  
Purity levels are often very high as Gold bars need to comply with standards that are set by the London Bullion Market Association (LBMA). Heraeus and Umicore gold bars are approved as "good delivery bars" from the LBMA  and are therefore highly liquid and can be easily bought and sold. 
Gold Price 
The price of gold is made of of two components. First, is the price of gold that fluctuates minute by minute on the exchanges of the world. This is often times called the "gold spot price". 
The second component is the premium. The premium is added to the gold price and includes the costs and profit margin of the both the mint and precious metals dealer. The premium can vary widely depending on the dealer. 
Also, the premium is affected by availability and demand in the market. As a result, when demand is high and availability is limited the premium will tend to increase.
Gold Bar Tax 
Heraeus and Umscore gold bars are exempt from VAT in Europe. However, keep in mind that selling gold may trigger a capital gain tax depending on the country you reside in.
| | |
| --- | --- |
| Metal | Gold |
| Form | Gold Bar |
| Country of Origin | diverse |
| Manufacturer | Different LBMA Certified |
| Series | Gold bars |
| Purity | 999.9/1000 |
| Fineweight | 250.00 grams |
| Gross Weight | 250.00 grams |
| Grade | Brilliant |
| Condition | Uncirculated |
| Packing | in capsule with certificate |
This is a preview of the recently viewed products by the user.
Once the user has seen at least one product this snippet will be visible.
Recently viewed Products