When it comes to physical gold and silver investing one needs to be sure to receive 100% authentic gold and silver coins and bars.
First of all, most of the uncertainty can be moved out by only buying through a reputable bullion company.
For example CelticGold guaranties the authenticity of each product sold. The majority of fake gold and silver products show up in little coin shops, on ebay and in flea markets.
Fake Silver Coins "Made in China"
In the meantime it is common knowledge that counterfeiters of fake silver coins are getting better and better and making it hard for the untrained eye to differentiate between real and fake.
The manufacturers and mints reacted to this development by implementing security features that are (almost) impossible to counterfeit. The Heraeus Kinebars for example have a Kinegram on the background which is based on the same technology that is used to secure bank notes from counterfeiting. But let's now have an in-depth look at the Maple Leaf Silver coin security features.
The Silver Maple Leaf Security Features
An outstanding example of Silver coin security is provided by the Canadian Mint. In 2013 the Canadian Mint introduced the laser mark and radial lines for silver Maple Leaf coins.
Let's look at these security features in more depth:
Radial lines - As the picture shows below the radial lines go from the centre of the coin outwards. Each and every coin will be adjusted in the dye before the round gets struck into a coin. This ensures a 100% accurate mintage result. It also requires high-tech minting equipment. The lines cannot be easily counterfeited, it requires a lot of expertise, skill and high-tech equipment.
Laser Mark - The laser engraved mark shows a little Maple Leaf mark below the big leaf with the year of mintage engraved inside the little leaf.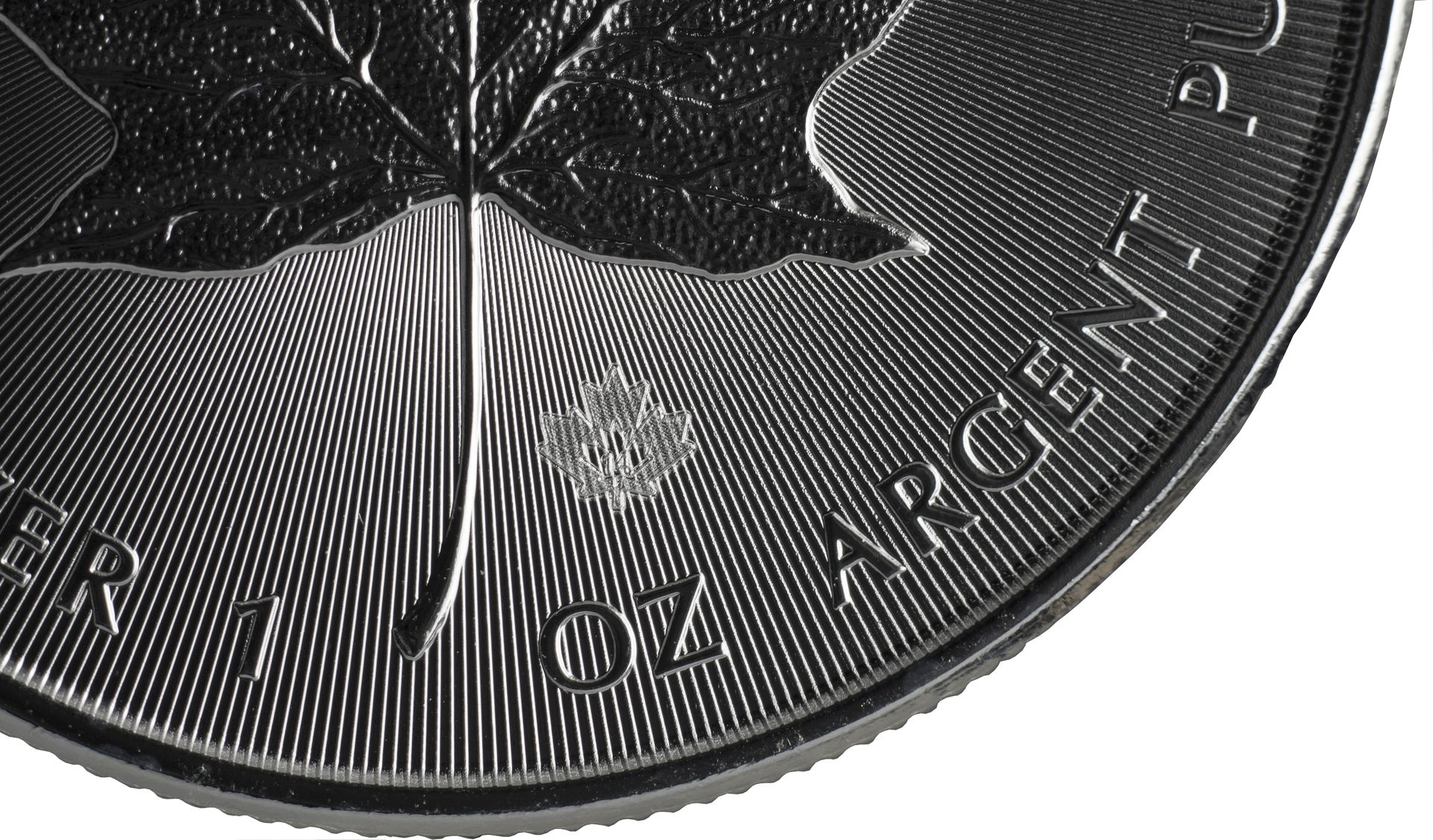 The year will only be visible under magnification. So be sure to have a magnifying lens with you in order to test this security feature.
Maple Leaf - One of the best selling silver coins at CelticGold
The Maple Leaf silver coin ranks at #2 of the top selling silver products. Many people also like the plastic mint box. 500 coins fit into one box but we also offer free boxes with purchases of less than 500 coins.
Summary on Security features of the Silver Maple Leaf
In order to ensure authenticity, buy from a reputable bullion company. Should you buy coins on ebay and/or flee markets then prepare yourself with a little testing kit. 
Magnifying lens

Magnet

Fine Scale (approx. 20 Euros but only with calibrating weights)

Acid Kit

An original coin
This way you will be 90% sure that the coin is real.
I would like to tell a little story. We had an order from a Danish customer and his shipment of Maple Leaf silver coins was held by customs. The Danish customs didn't worry about duties or anything. They worried about fake coins originating from China.
So they tested the Maple Leaf silver coins that we sold in Estonia and found them (no surprises here) to be 100% authentic. So our Danish customer received free testing of his silver order and a "governmental" guaranty that these coins are real. Not bad, eh?
We at CelticGold receive our Maple Leaf supply from the only direct importer in Germany and move them into our secure warehouse with G4S.
In addition to this article you will find a picture below that we saw on ozcopper.com (We couldn't find any copyright rulings, so we hope showing the picture here will be fine. Here's the link to the original article: http://www.ozcopper.com/fake-silver-warning/)